Ms. Marvel


Vital Stats
Real Name
Carol Danvers
Nicknames
Binary, Warbird, Catherine Donovan, Major Danvers, Cheeseburger, Captain Whiz, Bang
Gender
Female
Powers
like Captain Marvel
War Side
Pro-Registration
Voice Actor
April Stewart
Ms. Marvel (a.k.a Carol Danvers) is a female superhero who is in Marvel: Ultimate Alliance and Marvel: Ultimate Alliance 2.
Marvel: Ultimate Alliance
Edit
Focus Hero
Body: 15
Focus: 41
Strike: 19
A powerful force blast
Photon Burst (Projectile)
Spawns multiple energy balls that orbit Ms. Marvel and attacks enemies that come into range
Explosive Touch (Special)
Charges an enemy with explosive energy that blows up after a time
Fires a blast of energy into the ground causing radial damage. Reduces attack speed of enemies
Shoots energy beam that can split off and hit multiple enemies
Adds energy damage to attacks and increases energy damage resistance for Ms. Marvel and her allies
Slows time for everyone except Ms. Marvel and her allies
Massive flash of light does energy damage and stuns all enemies on screen. If an enemy is already stunned they take a critical hit for 50% of their current health
Costumes
Edit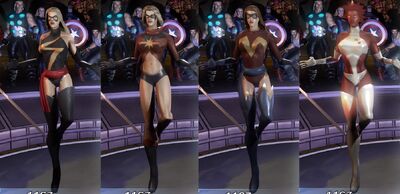 Ms. Marvel's most popular and well-known outfit: a black spandex leotard bearing a yellow lightning-bolt insignia, a black domino mask, black shoulder-length rubber gloves, black thigh-high boots, and a waist-affixed red sash.
Energized Fists - Adds energy damage to all melee attacks
Critical Strike - Increases critical strike chance
The very first Ms. Marvel costume, consisting of a midriff-exposing, red spandex top bearing a yellow star-symbol, black spandex shorts, a black domino mask, black elbow-length rubber gloves, and black knee-high boots.
Boost Stats - Boosts body, focus and strike stats
Point Blank - Adds damage to all powers that hit enemies within 6 feet
The Ms. Marvel costume worn by Sharon Ventura during her stint with the identity. It is thematically similar to Carol Danvers's Original costume. It consists of a red spandex shirt with a yellow design pattern vaguely resembling an "M," a domino mask, a blue domino mask, blue elbow-length rubber gloves, blue spandex shorts, and blue thigh-high boots. As this "costume" is actually a different character, Ms. Marvel hair color is not blonde, but brunette.
Photon Damage - Increases the damage of all powers
Resistance - Increases all resistances
Carol Danvers's new look from after she was experimented on by the Brood and transformed into an emotionally detached cosmic mutate named Binary. Binary possesses the unusual physical features of being red-skinned and spiky-haired, and her costume consists of a white halter top/shorts combo, elbow-length gloves, and thigh-high boots.
Max Energy - Increases maximum energy
Photon Damage - Increases the damage of all powers
Conversations
Edit
<Act I, Stark Tower> Dr. Pym (minor)
<Act I, Ancients' Hall> Ultimo
<Act III, Shore of Corpses> Volla (When you 1st met her)
<Act IV, Royal Library> Vision
Marvel: Ultimate Alliance 2
Edit
Ms. Marvel makes her first appearance in an underground mine where Shocker somehow overpowers her and attempts to torture her with some kind of electrical device in an attempt to find the rest of her team only for the player character's team to arrive and beat up Shocker until he runs off.
After the events, She then changes her name to Captain Marvel.